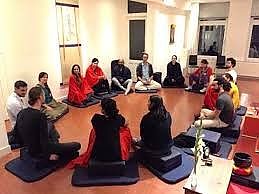 Thursday Night Open Class (in-person)
Every Thursday from 7pm to 9pm
$10 suggested donation: You can register HERE, or simply show up with some cash if you want to make a donation, which is not required to join. Please come!!!
All are warmly invited any or every Thursday evening to the Boulder Shambhala Center where a senior teacher will lead a period of sitting meditation practice (with meditation instruction for those who are new) followed by a presentation with questions and discussion. Each week's presentation is on a topic inspired by the Buddhist, Shambhala or Arts & Culture, contemplative paths. At the end there will be refreshments and time to socialize. Beginners and advanced practitioners are all welcome!
Here is the upcoming schedule:
August 31st with Ellen Korman Mains: "Meditation: An Initimate Relationship with Ourselves"
September 7th with Agness Au: "There's No Future Without the Present"
September 14th with David Sanford: "Making Buddhism Relevant"
September 21st: Class Canceled due to the Kalachakra events at the center.
September 28th: Giovannina Jobson: "What is a Spiritual Path from a Buddhist Perspective?"
For more information please email [email protected].