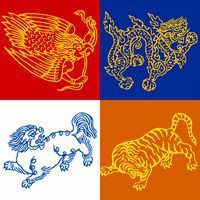 Wisdom in Everyday Life (New Date!!)
***This program has been postponed from September 22 start date to October 20 start date.
**This program will be taking place over Zoom unless we're able to meet in person by this time. Please register and pay in advance to receive the Zoom link.**
Wisdom in Everyday Life explores the qualities of a master warrior, whose vastness of mind and kindness fully manifest in the world. The master warrior is no longer deterred or depressed by obstacles. With tremendous forward vision and strength, this person playfully includes everything as part of the path. In this way, the warrior can skillfully benefit the world.
This course introduces the vajrayana teachings of Buddhism, which reveal the sacredness of the phenomenal world. Students will receive essential instructions for transforming confused emotions and situations into wisdom as they arise.
Prerequisites: Fearlessness in Everyday Life
Recommended: Shambhala Training V
Please plan to attend each session of the program.
There is a materials fee of $15 for a text that accompanies this course.
About the Way of Shambhala
The Way of Shambhala includes Shambhala Training programs I–V, with each training followed by an "In Everyday Life" course that expands upon what was offered in the training. Over the course of a year, these programs introduce the entire Shambhala path. This series offers a glimpse of the Shambhala vision of enlightened society by emphasizing how meditation can impact our daily lives—and from there, how the sanity of meditation can impact our community and our whole society. Please click here for a full description and chart of the Way of Shambhala.
Wisdom in Everyday Life is the fifth of the five weekly courses that accompany the Shambhala Training programs. It is recommended either before or after Shambhala Training V.
We are delighted that through sponsor support, we can offer subsidized pricing. If you are inspired to register as a sponsor, we thank you!