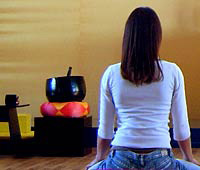 Sunday In-Person Community Practice
The Boulder Shambhala Center would like to begin welcoming its members back to practice in the Main Shrine Room on Sunday mornings.
The shrine room will be open 10-11:30am for community practice, including shamatha meditation, and silent sadhana practice.
Please go to the Members Area on this website to signup. Members are encouraged to signup only 1 time per month to allow other people an opportunity to practice in the MSR. You are welcome to add your name to a waitlist, and you will be contacted if room is available.
As you can imagine, we will need to be very strict about following the guidelines put into place by the Govenor of Colorado for indoor spaces and 'churches' including the following:
1. Monitoring of entry (6'apart, single file outside, temperature and questionnaire completed upon each entry by our trained and assigned staff.
2. No access to any spaces other than the MSR and 2 bathrooms.
3. Masks worn all the time inside the building: i.e. during practice, rest rooms, hallways, as well as waiting for entry.
4. No exceptions to masks other than medical conditions and for a person who is leading chants. This person should try to be 25' away from participants.
5. 6' distance maintained at all times
6. No food or drink in the building or on the premises, except for non-disposable, personal water bottles.
7. No trash left in the building
8. A $5 donation will be requested for cleaning fees after practice.
9. Release forms signed by all particpants and staff.


We look forward to practicing together again in person. Please let us know if you have any questions or concerns. Contact Tracy Suchocki, Membership Coordinator at [email protected].