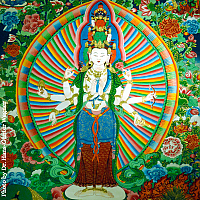 Maitri Bhavana (with Shambhala Online)
Maitri Bhavana (ONLINE)

Second Sundays, 12 PM MT / 3PM ET with Shambhala Online
Maitri Bhavana Second Sunday includes a brief talk, a discussion period, and Maitri Bhavana practice. Maitri Bhavana is a regularly scheduled mahayana practice for the seriously ill, or for major global turmoil and disasters. It contains tonglen practice and may be done by anyone.
We invite you to send names of those suffering from mental or physical pain to be included in our regular Maitri Bhavana practice. Maitri Bhavana meditation practice cultivates compassion by being willing to take on the sense of suffering of others, acknowledging our deep interconnectedness. A sense of spaciousness is directed to those who are suffering, with the intention of providing relief from the claustrophobia which suffering creates. Everyone is invited to participate in this central practice of Mahayana (great way) Buddhism. Along with names, please send the nature of the pain, for example, cancer or depression.
You can add the names and illnesses of those who you would like us to practice for here.