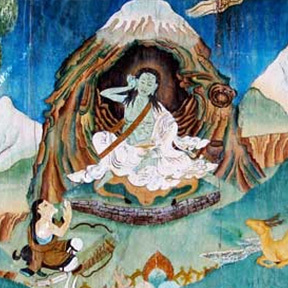 Milarepa Day
Milarepa Day is our annual tradition to celebrate the enlightenment and extraordinary life example of the Tibetan saint Milarepa. On this full day of practice, we chant the Milarepa sadhana and read the songs of the lineage teachers in The Rain of Wisdom (Tibetan Kagyü Gurtso).
From humble beginnings, Milarepa ultimately became Tibet's greatest saint in the Kagyü Lineage. Under the guidance of his teacher Marpa, he set out to seek spiritual enlightenment to purify his tremendously bad karma. Eventually, his wisdom attracted many disciples and he became a great teacher and poet. The Rain of Wisdom includes many of his poems of realization, called dohas.
These dohas are songs of realization of our Kagyü lineage holders, sharing their experiences of their human lives, their path and their practice. In chanting them, we attune our minds to theirs, invoking the inspiration of their sanity and devotion.
Please join us for any or all of the day's sessions:

9–10:45am Morning Session
11am–12:30pm Late Morning Session
12:30–1:30pm Lunch break
1:30–3:30pm After Lunch Session
3:30–3:50pm Tea
3:50–6pm After Tea Session
6–7pm Dinner break
7–9pm Evening Session
This is a community practice day, and all are welcome. If you have a copy of The Rain of Wisdom, please bring it. There is no charge, but donations are gratefully accepted.