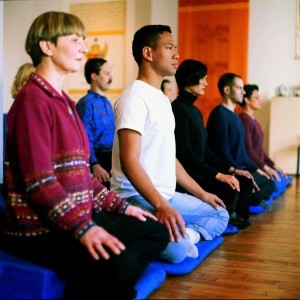 Part 1 - Meditation Instructor Training: Introduction & Refresher (in-person)
Part 1 - Meditation Instructor Training: Introduction & Refresher (in-person)
Friday, September 29th, 7pm to 9pm
Saturday, September 30th, 9am to 6pm
Sunday, October 1st, 9am to 6pm
Prerequisites: In order to attend, Shambhala Training V: Open Sky is required.
New Student to MI Training (Full Price): $150
Shambhala Guide: $100
Meditation Instructor: No Charge
REGISTER HERE
If financial assistance is needed, please contact Boulder Practice & Education at [email protected]
Students new to MI Training and existing MI's are welcome to attend. This weekend will:
1) Introduce new students to MI training, and it will be a prerequisite for the full MI training - Part 2 with Janet Solyntjes scheduled for the weekend of 11/10 - 11/12.
2) Update and refresh existing MIs on the importance of topics identified as necessary for MIs in this present day and society
The topics that will be taught and explored together include the current Initial Meditation Instruction, Embodiment, Trauma Sensitivity, Code of Conduct, and Diversity & Inclusion. This weekend program will be led by a remarkable team of senior teachers, including Dale Asrael, Giovannina Jobson, James Fladmark, Valerie Lorig, Margot Iseman, Rose Sposito, Jeff Scott and others. It was adapted from the 10-week Shambhala Online course offered this past spring.
REGISTER HERE
If financial assistance is needed, please contact Boulder Practice & Education at [email protected]