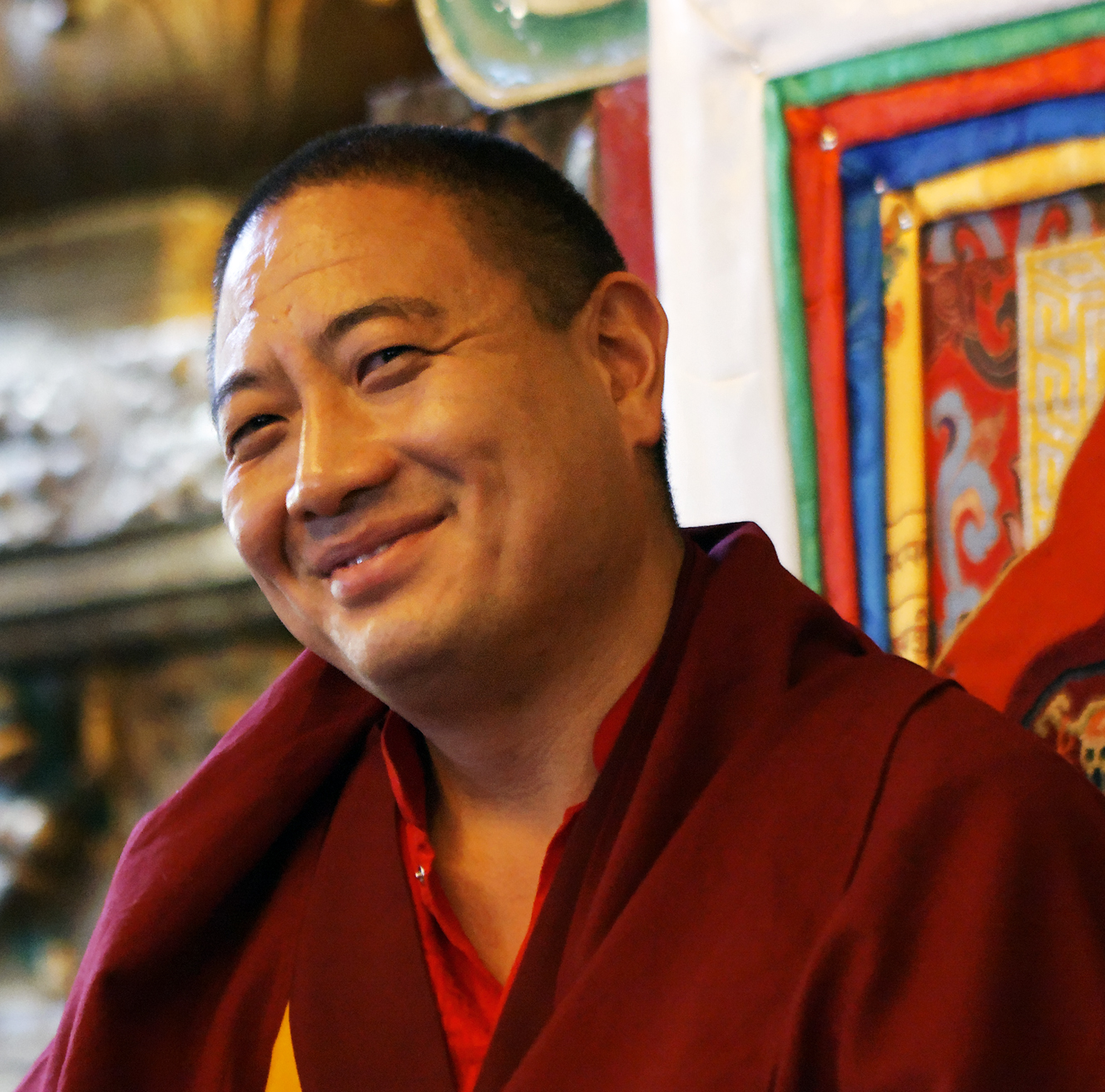 Shechen Rabjam Rinpoche: Vajrakilaya Transmission and Gesar Entrustment (in-person, restricted)
Transmissions and teachings restricted to tantrikas
By SHECHEN RABJAM RINPOCHE at Boulder Shambhala Center
THE TRANSMISSIONS ARE NOW FULLY ENROLLED. THERE WILL BE NO WALK-IN REGISTRATIONS (DETAILS BELOW)
Friday, October 20, 2023
Gesar Entrustment – 3 pm
Vajrakilaya Abhisheka – 7 pm
Boulder is blessed to receive Shechen Rabjam Rinpoche, grandson and dharma heir of Dilgo Khyentse Rinpoche. His empowerments of Vajrakilaya and Gesar at Boulder Shambhala Center will happen on Friday, October 20, 2023. They will be restricted to tantrikas who have received pointing-out instructions from a qualified master.
He will offer other teachings and empowerments in Boulder on the weekends of October 13-15, which will be open to all, and October 21-22, which have some restrictions. Please visit the Rimé Society website for an overview of the visit, sponsored primarily by them and Naropa University: https://www.rimesociety.org/events
Cost & Registration: THESE TRANSMISSIONS ARE FULLY ENROLLED.
Please continue reading for more details on these programs offered at Boulder Shambhala Center.
VAJRAKILAYA ABHISHEKA


Vajrakilaya is one of the most important yidams in vajrayana Buddhism, especially in the Nyingma tradition. Vajrakilaya is a wrathful manifestation of the activity of all buddhas, and its practice has the potential to remove obstacles and impediments to awakening swiftly. The Vidyadhara Chögyam Trungpa Rinpoche hoped that all of his sadhana-practitioner students would eventually focus on this practice during their opportunities for retreat, especially after completing the Chakrasamvara retreat. In order to help us to accomplish this, Dilgo Khyentse Rinpoche conferred this empowerment in 1987 at each of the three locations he taught in our community, following the cremation of the Vidyadhara.
In the Himalayan traditions of vajrayana, many masters practice Vajrakilaya and achieve spiritual accomplishment. This particular Vajrakilaya terma cycle is known as the Quintessential Pith Kilaya (in Tibetan, Netik Phurba). It contains the quintessence of the Kilaya Tantras. It was given by the master Prabhahasti to Padmakara who, in a pure vision, gave it to Jamyang Khyentse Wangpo as an oral lineage (a type of treasure or terma revelation). The unbroken transmission lineage came down to Shechen Rabjam Rinpoche from his root master, Dilgo Khyentse Rinpoche, who held this sadhana in high regard and practiced it daily. The Vajrakilaya Tantra is of special importance to Shambhala vajrayana practitioners because of its strong connection with the Shambhala termas discovered by the Vidyadhara Chögyam Trungpa Rinpoche.
In his auto-commentary to The Golden Sun of the Great East, he equates the great primordial razor knife with the primordial Ashe and self-existing black Ashe, explaining that several lines from this terma are very similar to verses in the Vajrakilaya Tantra. Further, in The Tiger Lion Garuda Dragon Glory (pp. 28-29) commentary we see how Shambhala vision correlates with Vajrakilaya Tantra on the ground of absolute Ashe.

This empowerment will be open to all tantrikas (those who have received pointing-out instruction from a qualified master), just as it was in 1987.
PRACTICE INSTRUCTIONS FOR VAJRAKILAYA
Tuesday October 17th and Wednesday October 18th - Information and Registration HERE
Register to join either or both days.
Hosted by the Shambhala Center, Larry Mermelstein, teacher and translator in the Vajradhatu / Shambhala community since the early 1970s, has kindly offered to give practice instruction prior to the Vajrakilaya abhisheka.
All events will be in-person only. Stay tuned for more details.
GESAR ENTRUSTMENT

King Gesar of Ling is a very important protector and teacher for buddha-dharma and Tibetan culture. The Vidyadhara once commented about the importance of Gesar, saying that "Gesar is the vanguard of Shambhala," and he empowered him as one of the four main ancestral sovereigns in the Shambhala tradition. In 1987, Dilgo Khyentse Rinpoche conferred the Gesar empowerment on the senior officers of the Dorje Kasung in Boulder. Mipham the Great wrote many liturgies to Gesar, some of which the Vidyadhara translated with the Nalanda Translation Committee (various lhasang texts especially). All of Mipham's writings on Gesar are soon to be published, and this will include NTC's translations. See the link below for more information on this.
The empowerment offered by Rabjam Rinpoche will include an entrustment of the life force of Gesar Dorje Tsegyal, as well as a lung (reading transmission) on the entire volume of Mipham's writings on Gesar. Receiving this entails a daily commitment to include the Gesar protector chant ("Abbreviated Offering to Gesar," to be provided) in your daily protector practice. The forthcoming publication Gesar: Tantric Practices of the Tibetan Warrior King translated by Gyurme Avertin can be found here:
https://www.shambhala.com/authors/a-f/gyurme-avertin/gesar-9781611809152.html
We hope copies will be available at the event.
Ordering information for Vajrakilaya texts:
Please visit the Nalanda Translation Committee website to order these publications. We may have some copies of the daily practice text for sale at the Tuesday session, as well as copies of Dzongsar Khyentse Rinpoche's teachings. It is now too late to order these in advance. See links below:
Here is a link to the daily practice text booklet with instructions: https://www.nalandatranslation.org/publications/restricted-texts/sadhaka/vajrakilaya-materials/daily-practice-of-vajrakilaya/
Here is a link to the complete sadhana and practice manual (only available to sadhakas soon to engage in this retreat [for those who have completed Vajrayogini & Chakrasamvara practices]; you'll find the sadhana toward the bottom of this webpage): https://www.nalandatranslation.org/publications/restricted-texts/sadhaka/vajrakilaya-
materials/vajrakilaya-sadhana-practice-manual/
All NTC Vajrakilaya publications are found here: https://www.nalandatranslation.org/product-category/restricted-texts/sadhaka/vajrakilaya/