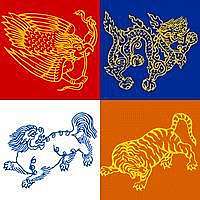 Contentment in Everyday Life (Hybrid)
Hybrid Program!
Mondays, March 14th to April 11th
630-830pm Mountain Time
*Vaccination or proof of medical exemption required to attend in person.
This course provides an exploration of genuine contentment, the foundational views of the Buddhist teachings, and meditation in action for daily life. Through the gentle precision of meditation practice, we can learn to appreciate ourselves and simple human experiences, free from self-aggression. Difficult emotions and the challenges of life can be met with curiosity, steadiness, and humor. Each class includes a guided meditation and/or contemplation, a short talk or teaching, and time for a discussion about how the material relates to daily life.
Prerequisite: None
Recommended: Meditation in Everyday Life + Shambhala Training I and II
Please plan on attending each session of the program. The first and last classes are especially important.
About the Way of Shambhala
The Way of Shambhala includes Shambhala Training programs I–V, with each training followed by an "In Everyday Life" course that expands upon what was offered in the training. Over the course of a year, these programs introduce the entire Shambhala path. This series offers a glimpse of the Shambhala vision of enlightened society by emphasizing how meditation can impact our daily lives—and from there, how the sanity of meditation can impact our community and our whole society. Please click here for a full description and chart of the Way of Shambhala. If you have any questions about our path, please contact Travis May, Director of Practice & Education at [email protected]
Contentment in Everyday Life is the second of the five weekly courses that accompany the Shambhala Training programs. It is recommended either before or after Shambhala Training II, but Contentment in Everyday Life can be taken on its own.
We are delighted that through sponsor support, we can offer subsidized pricing. If you are inspired to register as a sponsor, we thank you!