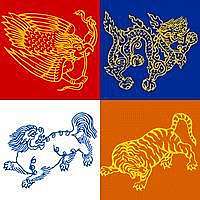 Joy in Everyday Life (Hybrid)
Hybrid Program!
Mondays, May 23rd to June 20th
630-830pm Mountain Time
*Vaccination or proof of medical exemption required to attend in person.
Joy in Everyday Life expands the meditation experience to develop further kindness toward ourselves and others. Through our discipline of meditation, we can begin to touch our inherent confidence and open heart of basic goodness. As we go forward on the journey, joining gentleness with discipline leads to a sense of joy. This inspires us to live a life of bravery and freedom from doubt. As meditation practice deepens and we develop trust in our innate wakefulness, we can begin to discover the confidence to relate to whatever arises in our world.
Optional material fee: Participants may purchase the book Ruling Your World by Sakyong Mipham Rinpoche, which we will use in this course. Normally we would have copies available at the center, but since we're still online, please purchase this book from your local bookstore or online.
Prerequisites: Meditation in Everyday Life + Contentment in Everyday Life
Recommended: Shambhala Training I, II, and III
Please plan to attend each session of the program.
About the Way of Shambhala
The Way of Shambhala includes Shambhala Training programs I–V, with each training followed by an "In Everyday Life" course that expands upon what was offered in the training. Over the course of a year, these programs introduce the entire Shambhala path. This series offers a glimpse of the Shambhala vision of enlightened society by emphasizing how meditation can impact our daily lives—and from there, how the sanity of meditation can impact our community and our whole society. Please click here for a full description and chart of the Way of Shambhala. If you have any questions about our path, please contact Travis May, Director of Practice & Education at [email protected]
Joy in Everyday Life is the third of the five weekly courses that accompany the Shambhala Training programs. It is recommended either before or after Shambhala Training III.