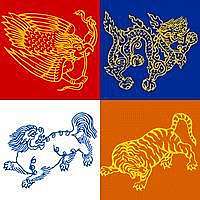 Fearlessness in Everyday Life
with Renee Cowan
In Fearlessness in Everyday Life, meditation opens us to the groundlessness, uncertainty, and creativity of the world as it is. By increasing our capacity to be present with our anxiety, we are not blocked by fear. This course introduces the Buddhist teachings on emptiness and the nature of reality. Connecting with this unborn nature, we explore the clarity and precision of living in the moment. As warriors at this level, we dare to face life and death as they are. The meditator, open to uncertainty, goes beyond the emotions of hope and fear to experience equanimity. Themes covered in this course include groundlessness, impermanence and death, hope and fear, and the mahayana Buddhist teachings of emptiness and bodhicitta. Each class provides space for an open discussion.
Prerequisites: Meditation, Contentment, and Joy in Everyday Life
Recommended: Shambhala Training I, II, III, and IV
Please plan to attend each session of the program.
About the Way of Shambhala
The Way of Shambhala includes Shambhala Training programs I–V, with each training followed by an "In Everyday Life" course that expands upon what was offered in the training. Over the course of a year, these programs introduce the entire Shambhala path. This series offers a glimpse of the Shambhala vision of enlightened society by emphasizing how meditation can impact our daily lives—and from there, how the sanity of meditation can impact our community and our whole society. Please click here for a full description and chart of the Way of Shambhala.
Fearlessness in Everyday Life is the fourth of the five weekly courses that accompany the Shambhala Training programs. It is recommended either before or after Shambhala Training IV.
We are delighted that through sponsor support, we can offer subsidized pricing. If you are inspired to register as a sponsor, we thank you!