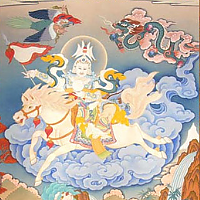 Holiday Werma Weekthun Online
with Acharya Eric Spiegel
Thus have I heard....
It is so easy to lose time doing nothing (what??? you mean scrolling isn't a real thing?)! This Tragi-comic year is actually coming to a close. Now we must do something meaningful: Please join us for this Holiday Week Practice Intensive led by Acharya Eric Spiegel. This retreat is open to all Werma and Scorpion Seal practitioners.
All levels of Scorpion Seal will be accommodated and there will be a combination of talks by the Acharya and audio or video recordings from the archive of Sakyong Mipham and the Vidyadhara's vajrayana teachings. We will conclude on Sunday, January 2nd (an auspicious Werma day) with a Werma Feast open to all werma practitioners.
You are invited to join us the entire week or for full individual days. Multiple days are recommended. Daily rate is $30. Please put in the comments when registering if you are planning on doing the full retreat or which days you plan on attending if partial. You can change your mind later, but it will help us in our planning.
Below is a tentative schedule for each day. All times are MST:
9am: Opening chants and sitting for the first hour
Short Break
10 or 1015: Werma practice with front and self-visualization breakouts. Start together, breakout into three groups (Group 1: Werma; Group 2 SSA 1-4; Group 3: SSA 5-10) and come back to close.
Noon-130: Lunch
130: Werma practice with breakouts by level
330: Tea
400: Talk
500: Sitting, protector and closing chants, close
---
Acharya Eric Spiegel has been a student and teacher in the Shambhala tradition since his teens. He was an early member of the Boulder community, deepened his practice at Karme Choling and was the resident acharya for the New York sangha for many years. His teachings are filled with warmth, humor and precision. He will be joining us from his home in the Hudson Valley, New York State.