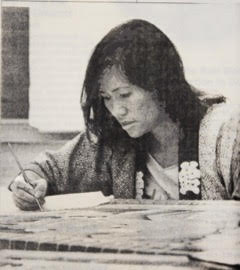 Tea and Thangkas: A Three-part Series
with Cynthia Moku
Tea and Thangkas: A Three-part Series
An invitation from painter Cynthia Moku and Boulder Shambhala Center Director, Jessie Friedman, to spend some time together in a three-part series titled Tea and Thangkas. Looking at select thangka paintings, we will enter and explore the powerful visual field of sacred art. Through personal experience, we will begin to understand how this artwork conveys the path and fruits of meditation, and how this in turn supports the cultivation of peace and wisdom within ourselves and the world. Cynthia will reflect upon the symbols and imagery we examine and offer her insights into what we discover through our collective viewing and smaller group explorations.

Cynthia will lead three successive gatherings, one per month beginning December 12th at Boulder Shambhala Center's For the Love of Wisdom Online Fundraising Gala at 6:30pm, followed by parts II and III, January 10 and February 14th, respectively. Several of Cynthia's Naropa University art and education students and retreat assistants will facilitate the small group portions throughout this three-part program.
If you missed the first session, you can still join!
We are delighted that through patron support, we can offer pricing options. Registering as a sponsor generously supports those who cannot afford the full price. Thank you!

Dates & Times:
Part I: Saturday, December 12, 6:30-8:30pm MST, as part of Boulder Shambhala Center's For the Love of Wisdom: An Online Gala
Register for the Gala HERE
Part II: January 10, Sunday, 11am-12pm MST
Part III: February 14, Sunday, 11am-12pm MST
About Cynthia Moku:
In 1973, Cynthia Moku began a lifelong practice and study in meditation and in the art of Buddhist scroll painting (thangka painting) prompted by the gentle yet decisive certainty of her spiritual teacher, Kyabje Kalu Rinpoche, the distinguished and respected meditation master of the 20th century. Since then, she has drawn and painted images for an array of Buddhist teachers and communities. She has directed and painted large-scale art projects, such as the painting of murals in the four main public stupas (Buddhist temples) with interior shrine rooms, all built along the Rocky Mountains of the western United States. The Denver Art Museum holds her thangka painting of Chagdrukpa (Mahakala), the deep-compassion emanation of Avalokiteshvara, Buddha of Compassion. It is the first traditional thangka painting in the classic style of Himalayan Budhist art, that a major American museum holds in its permanent collection stating, "Country of Origin, The United States of America", and was consecrated and inscribed by His Holiness the XIV Dalai Lama and The Venerable Dzogchen Ponlop Rinpoche.

Cynthia is Creative Director of Lhadrima Foundation, a non-profit organization enthusiastically committed to Connecting Wisdom Traditions & Communities through the Arts. An upcoming unique project exemplifying Lhadrima's intention, is the creation of a 3-D scroll painting showing three universally recognized female Buddhas: White Tara, Prajnaparamita, and Green Tara. At this initial point, the project is playfully named "Gathering the Awakened Feminine Plenum." To see a collection of Cynthia's artwork, order prints from Moku Studios online gallery, find out more about Lhadrima Foundation, or send a message, Cynthia invites you to visit her website: cynthiamoku.com.