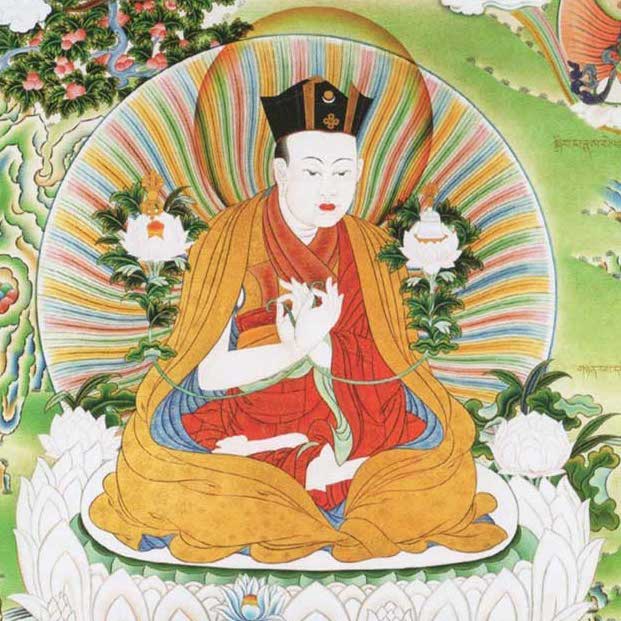 Aspirations for the Great Seal (mahāmudrā) that is the Definitive Meaning—Part II
with Jules Levinson
Aspirations for the Great Seal (mahāmudrā) that is the Definitive Meaning, composed by Rangjung Dorjé, the Third Karmapa
with Jules Levinson
Thursdays
7-8:30PM MT
September 17th-December 3rd

Open to all tantrikas.

**ONLINE via Zoom. Please register in advance to ensure you get the link.**
*If you are not a tantrika, but would like to take this class, please email Travis at [email protected]
After teaching from the magnificent and enormous Great Seal, Light Rays of the Moon from 1989-1996 at ten-day retreats held initially in Big Bear, California, and in the latter years in Idyllwild, in the Fall of 1997, the great scholar, teacher, and practitioner Trangu Rinpoché turned to a renowned and concise presentation of the whole of the instructions for the Great Seal, that is, mahāmudrā, composed by Karmapa Rangjung Dorjé (rang byung rdo rje, 1284-1339), his Aspirations for the Great Seal that is the Definitive Meaning (nges don phyag rgya chen po'i smon lam) as a summary and culmination of the instruction he had offered in previous years.
I had the enormous good fortune to serve as his oral translator for all but the first of those programs. Trangu Rinpoché's presence, erudition, and eloquence left a durable impression upon me then and inspires me to this day, as I hope it will for many years and lifetimes to come. He spoke clearly, incisively, and extensively of the view of the Great Seal, the way in which to immerse oneself in that view in a contemplative manner, how to conduct oneself subsequently, and the outcome of having done so patiently over a long period of time. The knowledge and example he provided during those years burned itself into me, irremovably I hope. Many years later I find myself returning continually to his voice, his explanations, and the humility and depth with which he expounded the pinnacle of the tradition of contemplative inquiry and realization that has somehow come even to us from the masters of view, meditation, and conduct Télo, Nāro, Maitripāda, Marpa the Translator, Mila the cotton-clad Lord among Yogins, and the incomparable Gampopa.
Recently I have arrived at a time in life when at last I am able to resume work on the translation of the oral explanations that Trangu Rinpoché offered at the retreat in 1997, where over the course of ten days he explained the twenty-five stanzas of Karmapa Rangjung Dorjé's Aspirations in a steady, relaxed, and thorough yet also forceful, grounding, uplifting manner. As I listen again to his voice and consider the deep meaning and practical application both of his words and of the instruction that the Karmapa has left for those who would follow the trail of his realization, particularly amid the chaos, peril, and uncertainty of the present moment, I have to think that there may be others who, like me, would find this counsel regarding profound matters to be of genuine benefit. When invited to teach, this series of talks came first to mind, and for that reason I would like to share them with others in the coming months. I bring nothing in the way of deep understanding or real experience to this endeavor, but I will do my best to say the words clearly, without distorting their meaning or intent. I encourage those who may be interested in hearing of such things to come along for the journey these stanzas describe, a deep education in view, meditation, conduct, and fruition.
---
Jules Levinson graduated from Princeton University with a B.A. in English literature and then earned an M.A. from the University of Virginia's Curry School of Education specializing in secondary school English. Soon thereafter he began studying at the UVA's Graduate School of Arts and Sciences under the guidance of Dr. Jeffrey Hopkins and the eminent Tibetan scholars invited by the University's Center for South Asian Studies. He received a doctoral degree in Religious Studies from the University of Virginia in 1994, and he has served as a translator for many eminent Tibetan teachers, including Khenchen Trangu Rinpoché and Khen Rinpoché Tsültrim Gyatso. Jules lives n Boulder, Colorado, where he translates Buddhist texts from Tibetan into English and periodically teaches in the Religious Studies Department at the University of Colorado at Boulder Jules also serves as the Vice President of JLF Colorado, Boulder's international literature festival.