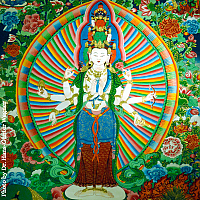 Mahayana Practice Sessions
Second Sundays 11am-12pm
This offering will be held via Zoom at this link:
Join Zoom Meeting
https://us02web.zoom.us/j/84468282584?pwd=Myt4ZG1pSVRsUHRWcWdyVW5yNVZxZz09
Meeting ID: 844 6828 2584
Passcode: 019048
We invite you to send names of those suffering from mental or physical pain to be included in our regular Maitri Bhavana practice. Maitri Bhavana meditation practice cultivates compassion by being willing to take on the sense of suffering of others, acknowledging our deep interconnectedness. A sense of spaciousness is directed to those who are suffering, with the intention of providing relief from the claustrophobia which suffering creates. Everyone is invited to participate in this central practice of Mahayana (great way) Buddhism. Along with names, please send the nature of the pain, for example, cancer or depression.
There will also be guided tonglen practice.
While we are meeting on Zoom, you can add the names and illnesses of those who you would like us to practice for here.
This offering is free and open to all.