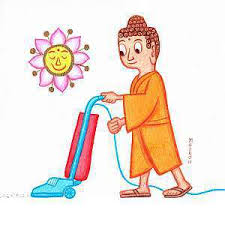 Neutral Day: Uncovering Sacred Space and Inviting the Dralas
Shambhala Day marks the beginning of the New Year and represents one of the most important traditions of Shambhala Buddhism.

The day before the new year is called Neutral Day, which is a celebration of restoring our good nature – all the fresh cleanliness hiding beneath the layer of dust or the pile of clutter. The practices of neutral day are focused on cleaning up the environment, so we have a cleaning party to uplift our centers. This is also a good day to clean your stove and make your bed at home. Then on Monday, we celebrate Shambhala Day and the new year to come: the year of the Iron Mouse.
Volunteer for Shambhala Week!
Please sign up HERE If you'd like to help clean and uplift the center and/or setup and support Shambhala Day. THANK YOU!!
If you're curious to learn more about end-of-year practices, here are a few resources to dive deeper in the Shambhala Times