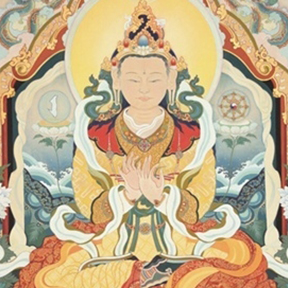 Rigden: Unconditional Confidence
with Acharya Gaylon Ferguson
Rigden: Unconditional Confidence is a weekend led by an Acharya in the Shambhala tradition, introducing further principles of warriorship. This is the point on the path when one takes the Shambhala Vow, which is offered at the conclusion of the weekend. The Rigden represents our inherent enlightened nature and embodies the principle of unconditional bravery. Historically, Rigdens were enlightened rulers: those who could rule their world based on their unwavering experience of basic goodness.
Prerequisites: Shambhala Training Weekends I-V and the five "Everyday Life" courses (Meditation, Contentment, Joy, Fearlessness, and Wisdom).
Taking the Shambhala Vow of basic goodness is a powerful moment in transforming one's life. Upon taking this warrior vow, you receive a Shambhala name. As a warrior, you commit to perpetually foster your basic goodness.
If you would like to contemplate and discuss the Shambhala Vow before the Rigden weekend, please meet with your meditation instructor or contact Travis May at [email protected] It is fine to attend the weekend and not take the vow.
With the great problems now facing human society, the Rigden weekend emphasizes connecting with one's innate goodness to manifest genuine confidence and bravery when engaging in the challenges in one's life and in the world.
Note: There is a $50 material fee for the weekend.