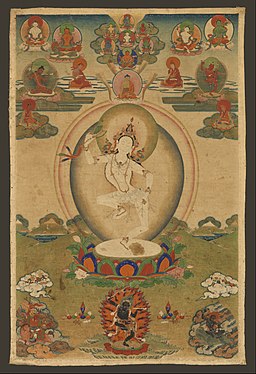 Chöd Training & Practice - Cutting through self concern
with Kristine McCutcheon
Chöd is a powerful practice founded by Machik Lapdron, a realised woman who's words are still echo with blessing 1000 years after she lived. Chöd literally means "cutting" — cutting through our obscuration's, cutting ego-grasping and fixation, cutting through to the natural state. By shifting the way we regard reality we can change the nature of our relationships to everything
Mahamudra Chöd is the practice as presented by Khenpo Tsultrim Gyamtso Rinpoche, using an English translation of the practice and music by his students.
This introduction to the practice is open to students who have an established yidam practice as well as to experienced Chöd practitioners. The program will include the lung and instructions on how to do the practice. Copies of the liturgy will be available for purchase. Please indicate on your registration if you would like to purchase a copy of the text.
Who Can Attend
Aspiring Chödpas who have received Vajrayogini Abhisheka or who finished a ngöndro and have permission from their teacher.
Experienced Chödpas
If you have questions about whether you can attend, please contact Kristine
What to Bring
If you have a Chöd drum, please bring that.
A Ghanta and Dorje
If you have extra bells or Chöd drums please bring those along to lend to a few people who might not have these implements.
Kristine McCutcheon is a householder yogi in the Shambhala tradition. She has studied with Ven. Thrangu Rinpoche, Khenpo Rinpoche, Pema Chodron and her heart teacher Sakyong Mipham Rinpoche. Kristine lives with her husband in Cape Breton between the mountain and ocean.