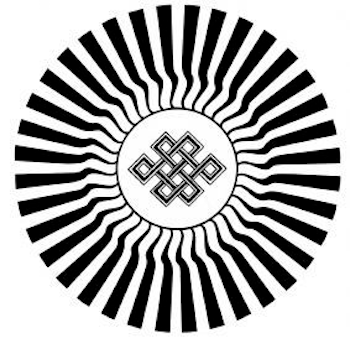 The Three Yanas of the Great Eastern Sun: Part II
with Acharya Gaylon Ferguson
In 1981, during a time of turbulence and confusion in our community, Vidyadhara Trungpa Rinpoche composed an evening chant, "Supplication to Padmasambhava." Padmasambhava means, literally, "Lotus-born." It is one of the sacred names of the great vajrayana master who brought tantric Buddhist teachings to Tibet. The purpose of our chanting this liturgy is to rouse basic sanity and wisdom to overcome environmental obstacles and neurotic upheavals of all kinds. The compassionate Lotus-born Guru Rinpoche is called upon to "destroy outer, inner and obstacles."
It is important to remember that Guru Padmasambhava is not external but represents our own innate wisdom. Ours is a non-theistic tradition. The child born from a lotus symbolizes our "basic innocence" according to the chapter "Primordial Innocence" in the book Crazy Wisdom: "We put so much emphasis on pain and confusion that we forget basic innocence."
In Part I of this course, focusing on the first yana, we will explore the path of individual liberation and the basic sanity of mindfulness-awareness practice through talks, guided meditations, and readings from Cutting Through Spiritual Materialism and The Profound Treasury of the Ocean of Dharma. We will contemplate the fundamental dharmic teachings of the Four Noble Truths and the Four Reminders.
In Part II, focusing on the second yana, we will explore teachings and practices—such as tonglen—related to the awakened heart of compassion and the bravery of the bodhisattva path. In this section, we will work with readings from Pema Chodron's book Comfortable with Uncertainty.


In Part III, contemplating the third yana, we will work with teachings on indestructible sacredness reviewing readings from Trungpa Rinpoche's The Heart of the Buddha, particularly the chapter "Sacred Outlook."

This program is open to all. Participants are welcomed to sign up for any one of the courses or all three.
We are also offering a discount for those who wish to register for all three parts. The price per yana for that option is:
Patron: $150
Full Price: $120
Member: $108
Subsidized: $75
To take advantage of this offer, please contact Eileen at [email protected]. For information on our generosity policy, please click here.
---
Acharya Gaylon Ferguson, PhD, is Core Faculty at Naropa University in Boulder, Colorado. He received a doctorate in cultural anthropology from Stanford where he was a Fulbright Fellow to Nigeria. He is the author of two books: Natural Bravery: Fear and Fearlessness as a Direct Path of Awakening (2016), and Natural Wakefulness: Discovering the Wisdom We Were Born With. He has led group retreats in mindfulness-awareness meditation for 40 years. He is an acharya (senior teacher) in the Shambhala Buddhist lineage. His essay "Buddhism and The Politics of Race" appeared in the collection Mindful Politics. His article "Making Friends with Ourselves," from Dharma, Color, and Culture was selected for inclusion in the series The Best Buddhist Writing.