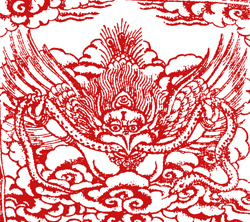 The Fearless Garuda—Emptiness & Absolute Bodhicitta: A Year of Deepening in Compassion Part III
The path of the Bodhisattva Warrior begins with developing affection for ourselves and expands this to others, dissolving the barriers that divide us. To support this practice, the Shambhala Acharyas have offered to lead the community in a year long series of talks, contemplative and meditation practices from the Buddhist Mahayana teachings of our lineage.

Throughout the year, the main practice is tonglen, which will be taught by Ani Pema Chodron. The year's teachings are divided into four seasonal themes. Every three months a new course will begin but the program will be continuous. Within each season, acharyas will be offering talks that relate to that topic with their own personal approach.
---
The Fearless Garuda—Emptiness & Absolute Bodhicitta:
This course is the third of a four-part series exploring the Shambhala Mahayana teachings.
The power of the Mahayana comes from its clarity regarding the true nature of reality. This clarity is described as penetrating insight (prajna) that sees that the world is actually different from what we habitually think it is. Instead of assuming that beings, objects, and systems are solid, truly existing independently, the bodhisattva sees that everything is empty of concepts and reference points (shunyata). Everything depends upon everything else, and phenomena arise interdependently (pratityasamutpada).
This pivotal insight changes everything, bringing tremendous joy and freedom to the path. This is absolute bodhicitta, the fertile basis of the compassion of the bodhisattva.
Join us in this wonderful opportunity to hear many of our most learned teachers and to gather together as a community to practice and contemplate the profound Mahayana.
---
You can also sign up for all four parts of the Year of Deepening in Compassion for $275 ($250 for Members). Please contact Eileen at [email protected] for help.
You can also come for individual sessions for $20 ($15 for Members).