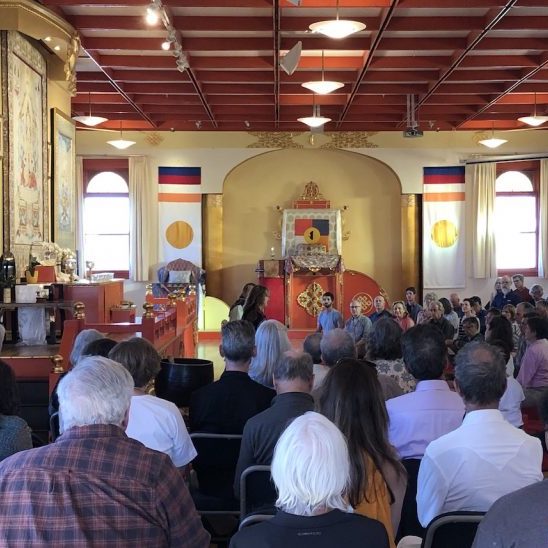 Sunday Community Practice
New Sunday morning format!
Sunday Community Practice is the opportunity for our whole community (families welcome!) to come together for meditation, food, and conversation.
This weekly offering begins at 9am with opening chants followed by sitting and walking meditation until 11am.
At 11am, a senior teacher will give a short dharma talk and offer meditation instruction as well. We will practice sitting and walking meditation until noon together.
At 10am, newcomers are welcomed to join our Open House in the Community Room for an introduction to Shambhala, the center, and meditation. Open House participants can then join the rest of the community at 11am where a senior teacher will offer a short dharma talk and discussion at 1130am.
At noon, we will have a soup and salad social. The center will provide the soup and salad each week, and everyone is welcomed to bring a dish to share if they like. This will be a chance to invite newcomers to the center, connect with new and old friends, and enjoy our wonderful sangha.
Everyone is welcomed to come and go as they like. Want to come for 30 minutes of sitting and then take off? Come anytime between 9-1130am. Want to hear a talk from a great teacher and have lunch with some warm and friendly people? Come at 1130am and stay for lunch. You get the idea. :)
Please make this a part of your weekly schedule! This offering is free; donations are very appreciated.